Ius Soli and Opus incertum in Oreste will back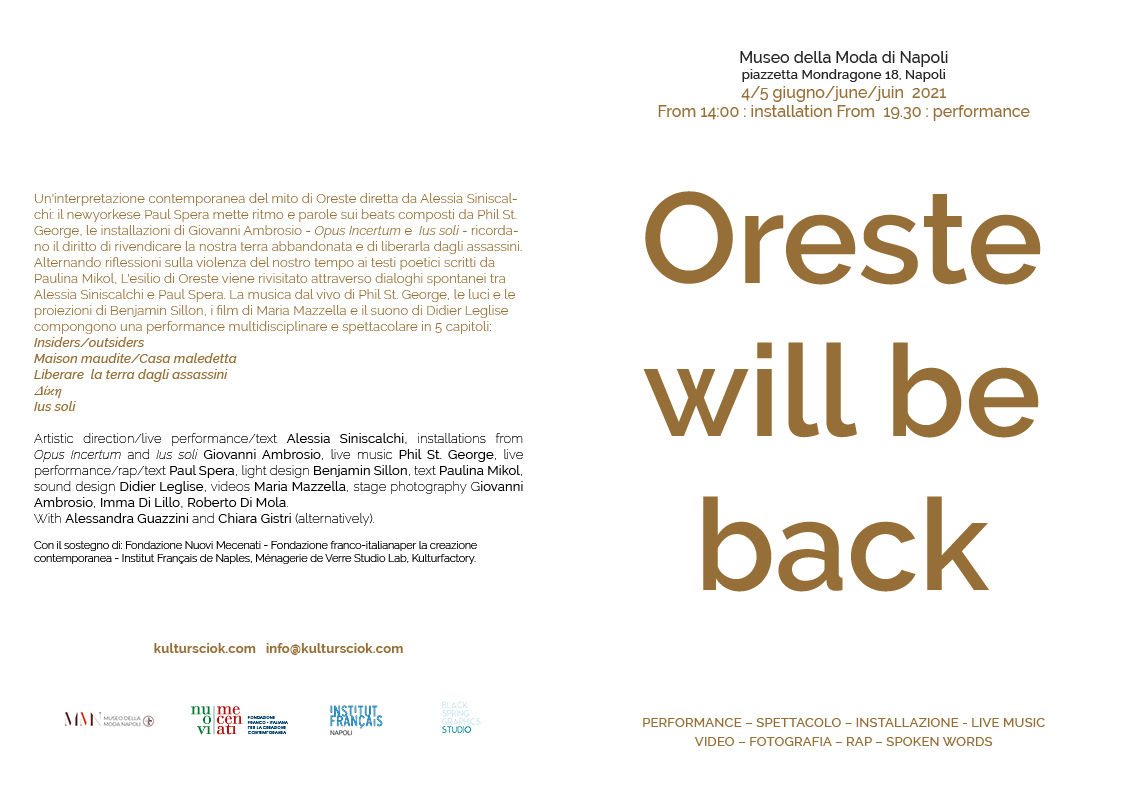 Un'interpretazione contemporanea del mito di Oreste diretta da Alessia Siniscalchi: il newyorkese Paul Spera mette ritmo e parole sui beats composti da Phil St. George, le installazioni di Giovanni Ambrosio – Opus Incertum e  Ius soli – ricordano il diritto di rivendicare la nostra terra abbandonata e di liberarla dagli assassini. Alternando riflessioni sulla violenza del nostro tempo ai testi poetici scritti da Paulina Mikol, L'esilio di Oreste viene rivisitato attraverso dialoghi spontanei tra Alessia Siniscalchi e Paul Spera. La musica dal vivo di Phil St. George, le luci e le proiezioni di Benjamin Sillon, i film di Maria Mazzella e il suono di Didier Leglise compongono una performance multidisciplinare e spettacolare in 5 capitoli:
Insiders/outsiders, Maison maudite/Casa maledetta, Liberare  la terra dagli assassini, Δίκη, Ius soli
Artistic direction/live performance/text Alessia Siniscalchi, installations from Opus Incertum and Ius soli Giovanni Ambrosio, live music Phil St. George, live performance/rap/text Paul Spera, light design Benjamin Sillon, text Paulina Mikol, sound design Didier Leglise, videos Maria Mazzella, stage photography Giovanni Ambrosio, Imma Di Lillo, Roberto Di Mola.
With Alessandra Guazzini and Chiara Gistri (alternatively).
Con il sostegno di: Fondazione Nuovi Mecenati – Fondazione franco-italianaper la creazione contemporanea – Institut Français de Naples, Ménagerie de Verre Studio Lab, Kulturfactory.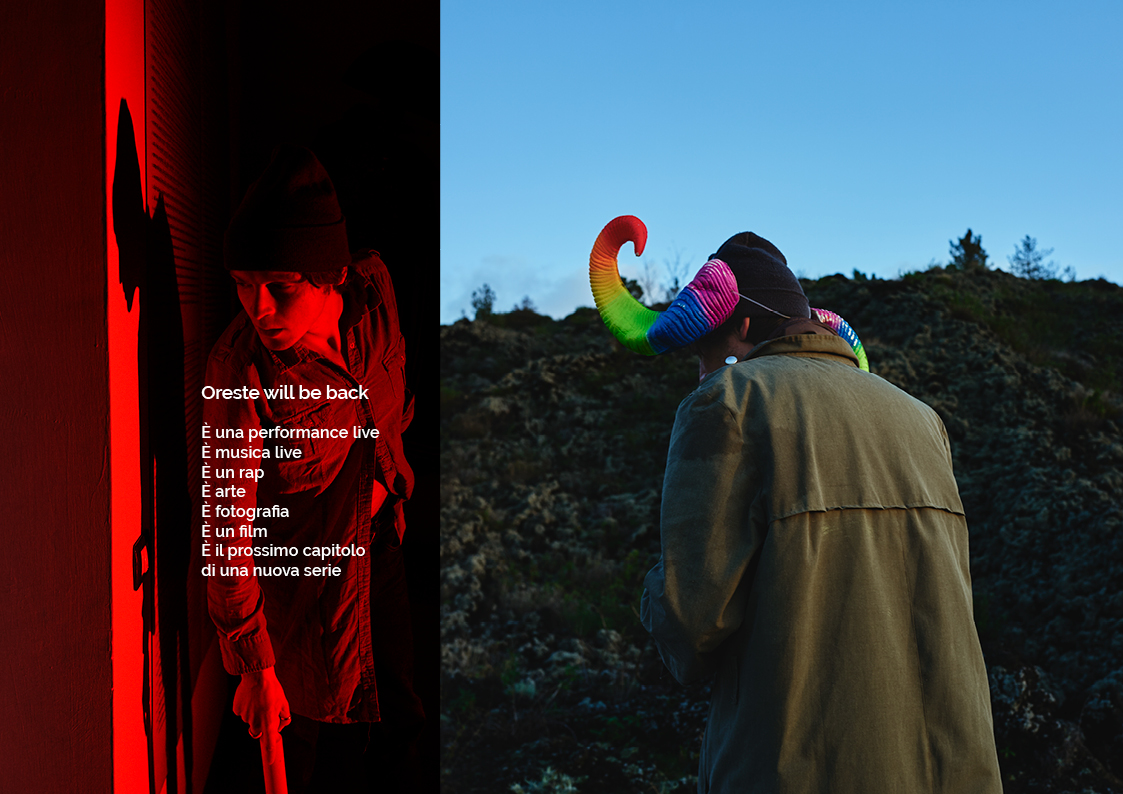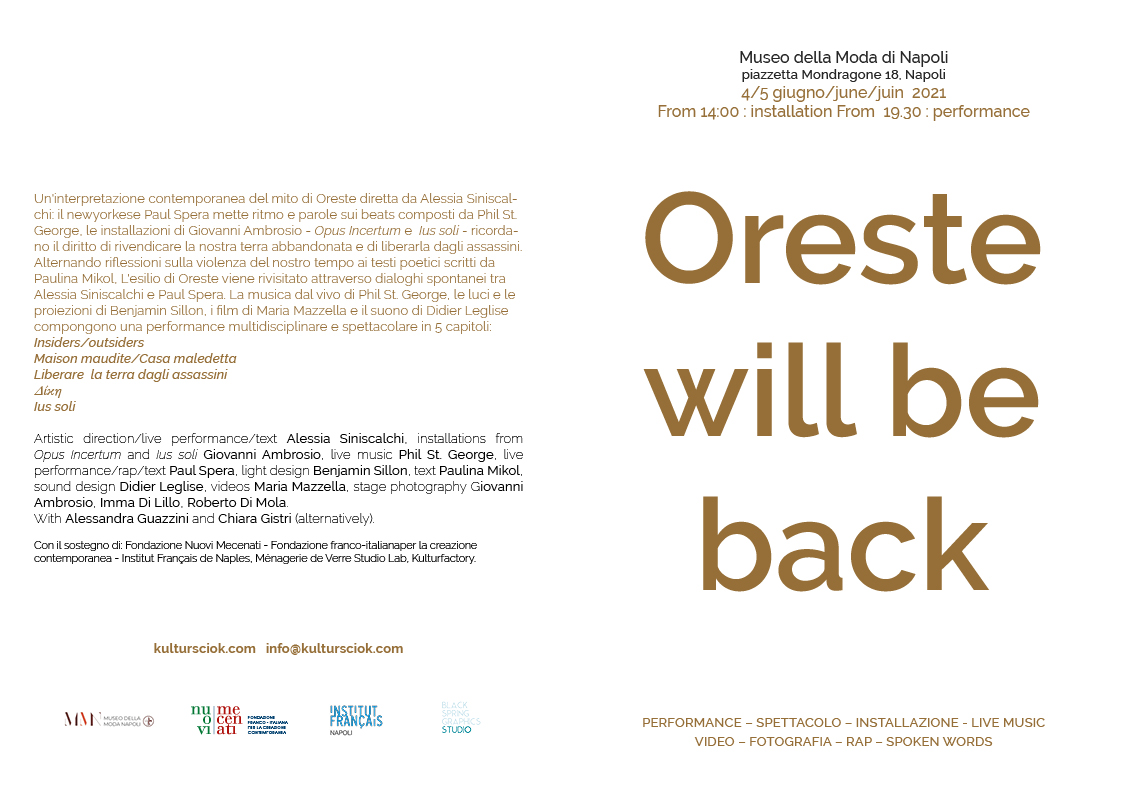 Share